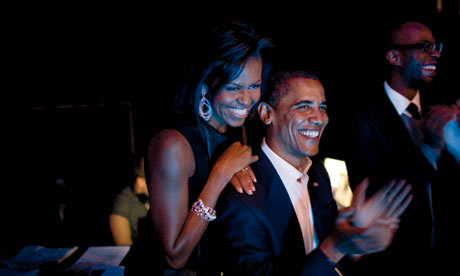 Mark your calendars loyal readers, April 9th the White House will be hosting a
star-studded sequestration celebration
. Strap on your suit and tie and get ready to have sexy brought back, scheduled to perform are Justin Timberlake, Al Green, Queen Latifah, Ben Harper, Booker T. Jones and more to be announced.
The exclusive White House concert is the 10th such event to be held by the Obamas since February 2009. Although the
White House may be closed to all those who can't afford the $500,000
ticket price to purchase access to the president and even though
poverty levels in the U.S. are at highs not seen since the 60's
, with nearly
50 million Americans below the poverty line
, and
child hunger rates at alarmingly high levels
, fear not fellow patriot, our dear leader has declared, "Let them watch on PBS."
This historic royal concert event is scheduled to be broadcast April 16, at 7 PM CST, check your local listings for channel.